UDUS ONLINE POSTGRADUATE APPLICATION FORM'S USER GUIDE
See below a comprehensive user guide that guarantees a smooth user experience while applying for your chosen graduate programmes.
STEP 1: CREATE A USER ACCOUNT
On the home page (http://pg.udusok.edu.ng), locate the MENU panel as shown in the image below and click on 'CREATE ACCOUNT'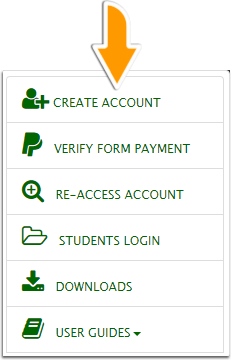 STEP 2: FILL THE DISPLAYED FORM
Fill all the fields in the displayed form as shown in the image below. DO NOT leave any field blank.



Choose your preferred programme as well. This is done by first selecting the preferred faculty, on select, the departments will be automatically populated in the corrensponding field; on select of the department, the available progammes will be displayed. Kindly choose as appropriate.
Note however, your chosen programme may still be changed, but that will be later - when you have been issued your 'APPLICATION NO'. You will be able to change your programme on successful login to your account. Also, you WILL NOT be able to use the email address you entered again for the same purpose this session.
Click the 'OK-CREATE ACCOUNT' button to submit your enteries.
STEP 3: PROCESS YOUR PAYMENT INVOICE
On-submit from the create account page, the summary of your entries will be displayed. Here, note your 'INVOICE NO' as you will be needing it for the verification of your payment at a later time.
Click on the 'PROCESS PAYMENT' link to process your REMITA invoice. This will be done by an auto-redirect to the REMITA platform. At this point, you may choose to make your payment online or proceed to the bank to make your payment.
You may print this page for record purposes
See below image as it will be shown on your application:
Payment invoice generation is as shown in this transition steps below:
STEP 4: VERIFY PAYMENT
After payment has been made, either at the bank on online, you will need to verify the payment on the UDUS pg portal. On successful confirmation that the payment has been made, you will be able to print your payment receipt. On this payment receipt, you will see your 'APPLICATION NO'. An email and most often, SMS will also be sent to you, confirming the recipt of the payment and the issuance of your 'APPLICATION NO'. The required process is as shown in the image below:


See the expected receipt prototype below: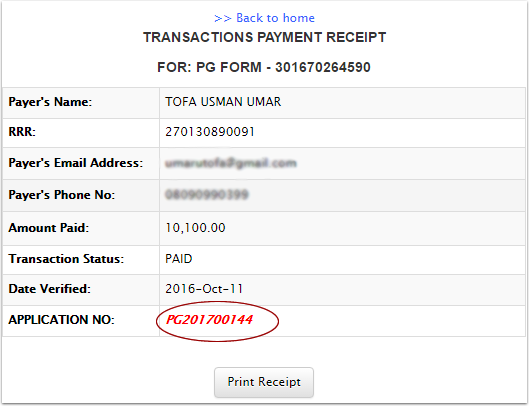 STEP 5: LOGIN WITH YOUR APPLICATION NO.
On receipt of your 'APPLICATION NO', login with the 'APP. NO.' and the password you created during the account creation process. On verification of your credentials, you will be granted access to your online forms. Fill all necessary information as required.
Each page will direct you on what to do. Kindly follow the instriction(s) strictly.
The login panel is as shown in the image below: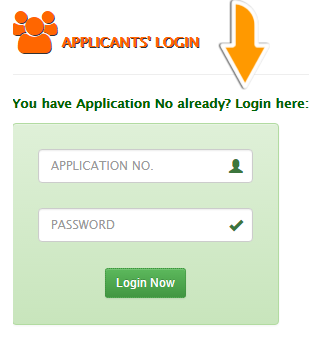 STEP 6: SUBMITTING YOUR APPLICATION
The last page on your application form is the 'DECLARATION PAGE', make sure to declare by checking the checkbox provided. It is important to check this box because by doing so, you have declared that all the information provided are yours and, to the best of your knowledge, correct. Any false information will mean misrepresentation and as such might inhibit your chances of getting admitted or may lead to withdrawal even after the admission has been offered.

On submission of these enteries, the system will check for completeness and accuracy and then acknowledge the reciept of your application. Any incomplete entry error will be flagged and you will be required to correct before you proceed. All other necessary directives will be given on submission and you will recieve an email acknowledging the completion of your application form.

Note that; after this final submission, your enteries WILL NOT be available for you to edit anymore. Although, occassionaly, based on genuine reasons, we may re-open an applicant's form for editing. In this case, after editing, applicants' are still required to declare and submit their forms finally again.

Make sure to print a copy of your information page and keep for record purposes.

Afterward, your subsequent logons will only allow you to access your status page, here, updates on your application submission will be given.